Upcoming Workshops + Courses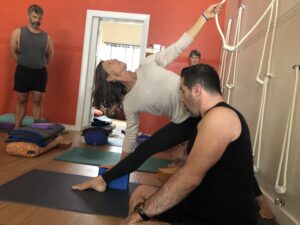 Visiting Senior teacher James Bahuth working on Uttitha Trikonasana with student and teacher Sally Bull.
Iyengar yoga workshops provide students the opportunity to focus more intently on a specific aspect of yoga, such as inversions, twists and pranayama (breath work). These workshops build knowledge in the physical body but more importantly they teach us to understand the link between the body and the mind. In his development of the Iyengar method of teaching yoga, the late BKS Iyengar said students needed to learn through the yoga Asanas (postures) and proper alignment that the mind is experienced through the body. This linking of body and mind is then transferred off the mat into everyday life to achieve clarity and focus towards our everyday tasks. Workshops give us the time and space to 'tap into' our physical, mental and emotional responses as a way of understanding what needs to be done to remove blockages, overcome afflictions, and ultimately achieve balance and freedom in everything we do.
Intensives are generally run over 3 to 10 days to enable students to fully immerse themselves in the study of the yoga asanas.
At Ballina Yoga, we run regular workshops and intensives to provide students with the opportunity to refine their understanding of Asana (the postures) and Pranayama (breathwork). Workshops and intensives are taught by teachers at the school and periodically by guest teachers. 
During the remainder of 2023 and start of 2024 the following workshops and intensives are planned:
Workshop with Helen Willoughby – Asana and Pranayama for deep relaxation and increased vitality – Sunday 26 November  – 8-10.00am
New Year Intensive – 5 days – 6.30 – 8.30 am each morning. Experience the benefit of a consistent daily yoga practice at a time of year when there is more space to learn and discover. Tuesday 2 to Saturday 6 January 2024.
Bookings through this website or contact Helen on 0439 023 389.